Enjoy the full smile!
Get ALL NEW TEETH in just 24 hours!
from This Month Only € 3697
GET YOUR TEETH FIXED
Who we are
Papadent is one of the most reliable dental clinics in Vilnius. With experienced staff and some of the finest technology at our disposal, we can provide you with cutting-edge dental services. We offer various services to all of our clients, from simple teeth whitening and periodontitis treatment to more complex procedures like all-on-4 dental implants. Though the quality of our services is high, our prices aren't. Don't take our word for it – the feedback from our clients speaks for itself. If you need help from a professional dental clinic, you'll feel right at home with Papadent.
Services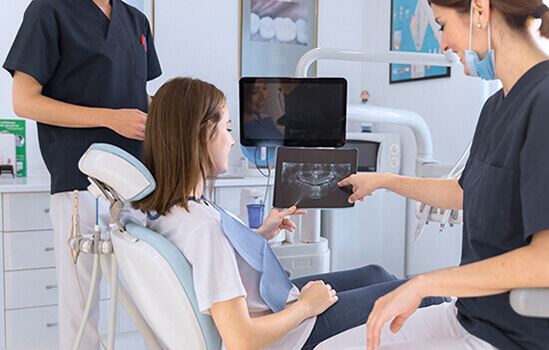 ALL-ON-4 AFORDABLE DENTAL IMPLANTS IN 24H
CONTACT US OR GIVE US A CALL TO FIND OUT MORE
+370-699-99911
Testimonials
Dalia Gaivelytė

Tom! Thanks to you and your team for a well-done a job. Amazing!! I can smile again. In just one day, my teeth were replaced with implants and prostheses were made. Thanks again for the inspired self-confidence!
Vytautas Antanas Bitautas

For many years I walked with partial removable dentures, teeth were moving gradually until they began to fall out in the end, and there remained only a few ones. I am extremely grateful to doctor Tomas Stumbrys for my dream smile and revived confidence. The teeth were removed, implants were threaded and teeth were put in unexpectedly quickly. I am very happy with the results. Thank you for your promptness, thank you for giving me the chance to smile again!
Your teeth are important. You only get one set in a lifetime, so if anything ever goes wrong, you want them to be handled by professionals. Thanks to our rich experience in the field, as well as access to some of the best equipment currently available, Papadent stands as one of the best dental clinics in Vilnius. With a passion for fixing various dental problems, we can help you by making your teeth not only look incredibly appealing but also stay healthy for a longer time. Contact us today and schedule a visit and you'll find out soon enough just how much we can do for you.
Our latest work
All teeth were removed during one appointment, 4 implants were inserted into upper and lower jaws. Within 24 hours new, fixed dentures were made and fixed on the implants.
Implantation of both jaws according to ALL-ON-4® methodology.
Both jaws implantation and prosthetics by All on 4 treatment (temporary prosthesis)
The upper and lower jaws implantation and prosthetics by All on 4, a temporary prosthesis