All new teeth in just 24 hours this month! SPECIAL OFFER
€ 4500
Only € 3697
WHAT DOES ALL-ON-4 OFFER TO YOU?
Replace missing teeth with dental implants and fixed beautiful teeth in just 24 hours! Currently the most advanced All-on-4 technique helps to recover all teeth. Unlike removable plates or dentures, all the teeth fixed to the implants are stable, it is not necessary to remove them, and heat, cold and taste is felt exactly the same as with natural teeth. Besides, you will be able to eat hard food without worrying that dentures might fall out. This revolutionary, life-changing technology is the most suitable for toothless or those people with many hopeless teeth. What options can these people choose from?
*"All-on-4®" is registered trademark of Nobel Biocare
We can restore all of your teeth for you!
Enjoy a full smile again with our excellent service!
Chew comfortably without worrying about the heat or the cold!
Smile and be happy without enduring the discomfort of dentures!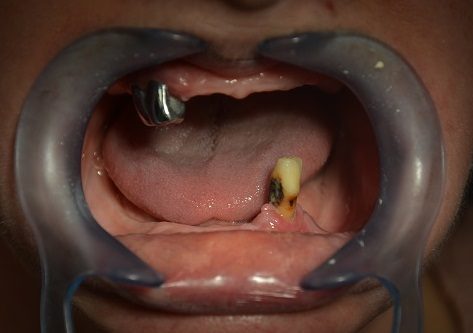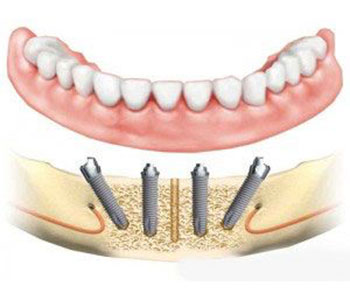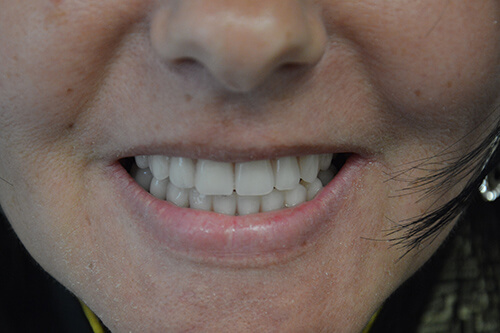 Comparison with other methods
Conventional implants
6-8 and more implants
More expensive
2-4 surgical procedures
Bone augmentation (accretion) is usually required
Prolonged treatment: 3-12 months till start of prosthodontics
All On 4 implants
Only 4 implants
Lower price in 40-60%
New teeth in 24 hours
No bone augmentation (accretion) required
Only one surgical procedure (teeth are removed and implants are screwed into during the same visit)
Removable dentures
Discomfort
Ineffective chewing
Phonetics problems
Bone loss (due to pressure jaw bone continues to atrophy to soft tissues)
01.
Consultation
During the consultation, the overall jaw shape is evaluated and treatment is planned.
02.
Temporary aesthetic plastic denture
If necessary, hopeless teeth and their roots are removed. Implants are screwed into during the same visit. Temporary aesthetic plastic denture for implant treatment period is made and placed within 24 hours, which can be used, if necessary, for 1-2 years.
03.
Procedure price
The price of the procedure – € 3697, the cheapest way from glum toothlessness to a happy life with real teeth and big smile!
04.
After 7-10 days
Sutures are removed after 7-10 days.
05.
Permanent prosthodontics in 6-18 months
Permanent prosthodontics procedure after 6-18 month with metal plastic or ceramic teeth.
6 Reasons to Choose All On 4 Treatment

You can have beautiful teeth within 1-2 days – even if you were told that you do not have enough bone for implants.​
Success rate – even 97 percent.
In most case, prolonged and painful bone augmentation procedures are not necessary.
​The procedure is well tolerated, it may be completed within 1.5-3 hours.
​The procedure can often be performed to patients with osteoporosis and diabetes, to whom bone accretion usually contraindicated.
You will save up 40-50 percent of funds in comparison with conventional implants and bone accretion.
Our Latest work
All teeth were removed during one appointment, 4 implants were inserted into upper and lower jaws. Within 24 hours new, fixed dentures were made and fixed on the implants.
Implantation of both jaws according to ALL-ON-4® methodology.
Both jaws implantation and prosthetics by All on 4 treatment (temporary prosthesis)
The upper and lower jaws implantation and prosthetics by All on 4, a temporary prosthesis
Types of All On 4 Dentures
Temporary All on 4® prosthesis
The temporary dental prosthesis you've had installed within the the first 24 hours after implantation is made acrylic material and braided wire. It is perfectly suited for the time that is necessary for the implant to take root. However, it would still be preferable if you moved on to a permanent one after the swelling of the mucosa has ceased and the gums have settled.
The procedure is recommended within 4-6 months after the implantation. Modern prostheses are made of materials that are very sturdy and long-lasting. They also ensure normal chewing and look really aesthetically pleasing.
Advantages:
They can be put on within 24 hours after implantation
The color, size and shape make them look realistic
Disadvantages:
The prosthesis is temporary, it may crack or break
If many teeth are removed, spaces may appear between the prosthesis and the mucosa once the gums settle
The bite and design may not be ideal and may require correction
The warranty for this prosthesis is only 6 months
The prosthesis may become porous and the color may change
All on 4® Prosthesis with metal frame and acrylic teeth
This prosthesis has a long lifespan and is quite sturdy. Its main element is the metal frame which is not visible from the outside, as well as the acrylic teeth.
Compared to the temporary prosthesis, this prosthesis is a much improved variant. It is built step-by-step in a laboratory. Practically any shape, color and size of teeth may be chosen.
Advantages:
Comparatively low all on 4 dental implants cost
Strong metal frame
Aesthetically pleasing
Easily repairable
Disadvantages:
After 5-8 years, depending on the patient's habits and anatomical situation, the acrylic teeth may need to be changed or restored because they wear down
Over a period of 5 years, acrylic teeth may break. This happens to around 5% of patients, around 80% of whom are male. The breaks are repaired easily, but it is mandatory to take the prosthesis off and send it to dental technician's laboratory. This may be a problem if you live in another city or country 
This prosthesis gathers plaque much more when compared to other alternatives. This sometimes results in a change in color and loss of shine, especially if the patient is a smoker
The acrylic element has a warranty of 1 year
At least 15mm of space is needed in the mouth, which may not be possible to accomplish in an aesthetic manner. If there is less space, the risk of breaks increases
01.

02.

Prosthesis with metal frame and ceramic finish
This prosthesis is made by finishing a metal frame with a ceramic layer. The color matches the natural color of the teeth. Such prostheses are very aesthetically pleasing, and they're resistant to wear. They are also cheaper than zirconium ceramic prostheses, but do not let light through, which may look unnatural. The ceramic finish may also break and this prosthesis is much more difficult to repair than the acrylic one.
It is used produced if there is less than 12mm of vertical space in the mouth. Metal-ceramic prostheses are manufactured in a laboratory, where the shapes, colors and sizes of natural teeth are reproduced precisely. This prosthesis is up to par in aesthetics and physical qualities with to zirconium ceramic.
Advantages:
Long-lasting dental prosthesis
The given warranty offered by the clinic is 2 years and may be prolonged for an additional year should the patient take part in the Dental Hygiene program
The prosthesis is finished with ceramic and looks more aesthetically pleasing than an acrylic variant
Resistant to wear
Cheaper than zirconium ceramic prosthesis
Looks natural
Needs less space, may be manufactured to be slim
Disadvantages:
Does not let light through, the prosthesis is not transparent, thus it may look slightly less natural
Ceramic breaks are quite frequent
Repair is difficult
Abrasive – the natural teeth on the other side of the jaw wear faster
Zirconium prosthesis with ceramic finish
This prosthesis is very aesthetically pleasing and is made from zirconium oxide. It is milled using a computer milling machine. This results in a monolith frame.
While making prosthetics for teeth, one of the most important criteria is aesthetics. Choosing a zirconium prosthesis ensures that your prosthetic teeth look really natural.
In comparison to metal-ceramic, the zirconium prosthesis is of a white color and refracts light. If the prosthesis is fixed to an implant, it makes contact with the gums.
This is why it is important to ensure that the material of the prosthesis is not allergenic. Zirconium ceramic is accepted by the body as a natural material, which means that the prosthesis does not cause any discomfort and it doesn't leave any specific taste. Zirconium ceramic is a perfect fit for patients who are looking for long-lasting aesthetics and a sturdy build quality.
Advantages:
The best combination of beauty and sturdiness
Most patients agree that these prosthetics felt the most like their own teeth
The clinic offers a warranty of 2 years which may be prolonged by one year should the patient take part in the Dental Hygiene program
The prosthesis is finished with ceramic. It is also shiny and pleasant to look at
Retracts light
Biologically inert, does not provoke allergies
Collects the least plaque, does not undergo discoloration
Disadvantages:
It is more expensive than a metal-ceramic prosthesis